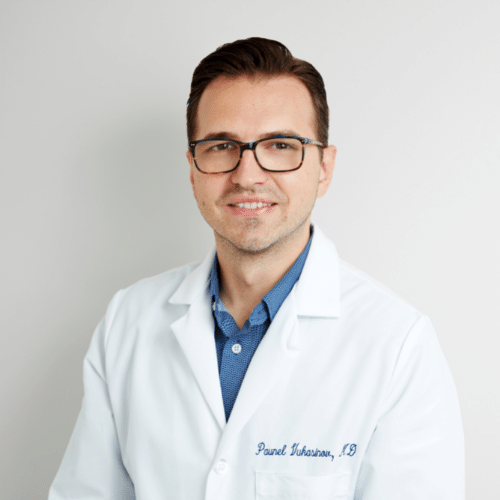 Dr. Vukasinov is a committed doctor of internal medicine who is a member of the American Board of Internal Medicine and board certified by the American Board of Internal Medicine. After completing medical school at Victor Babes University of Medicine in his native Romania, he came to the United States and completed his residency at Wyckoff Heights Medical Center in Brooklyn, where he was awarded Internal Medicine Resident of the Year. Dr. Vukasinov's specialties include hypertension, hyperlipidemia, type 2 diabetes, arthritis, asthma, and other medical conditions.
Dr. Vukasinov's Care Team
Oriana Santarelli, PA received her Bachelor's of Health Science at Mercy College and worked as a medical assistant in gastroenterology. She also volunteered as a physical therapist assistant. Oriana also provided care at a medical mission trip and pre-school throughout the didactic year in PA school . She then graduated from Mercy College with a Master's of Physician Assistant studies. Shortly after, Oriana started her first position at NYP Hospital in surgery. She decided to take a turn and focus on prevention, patient education, and building relationships with patients.
Why did you become a doctor?
Growing up, I admired the way Doctors were able to comfort and take care of individuals in their most vulnerable state. This desire to help people with great curiosity of the human body led me to medicine.
What made you focus on primary care?
I love the ability to foster lasting relationships with my patients, while always being challenged by the vast field of internal medicine leading to lifelong learning.
What are the goals of your approach/treatment/program?
Improving the health and well-being of my patients and helping them understand their medical conditions better.
What is your approach to medicine?
Evidence based medical approach with emphasis on prevention and empathy towards my patients
How would you define patient care?
The ability to accurately diagnose the medical issue while alleviating the anxieties of the patient with comfort and empathy leads to optimal patient care
Education
Paunel attended Victor Babes University of Medicine and Pharmacy Timisoara in Romania.
Publications & Talks
Frunza-Stefan, S., Vukasinov, P., Acharya, G., Kazlouskaya, V., Chiou, Y., & Thet, Z. (2017). Immune reconstitution inflammatory syndrome associated with secondary syphilis. International Journal of STD & AIDS,28(3), 302-305. doi:10.1177/0956462416664469
Vukasinov, P., MD, Ismail, M., MD, Liao, H., MD, & Mir, P., MD. (2017). Hemoptysis in a previously healthy elderly patient with an unrecognized tracheal bronchus: A Case Study. Respiratory Medicine Case Reports. doi:10.1016/j.rmcr.2017.06.002
"Immune Reconstitution Inflammatory Syndrome Associated with Secondary Syphilis," Presented at the New York ACP Annual Scientific Meeting, Abstract/ Poster Presentation 2016
To provide invaluable diagnostic and treatment recommendations. Our mantra is just as simple: early detection is paramount to prevention.
To provide this world-class model, we not only have the most medically qualified doctors, we support them with passionate nurses, physicians assistants, and staff to deliver the all around care that you need.