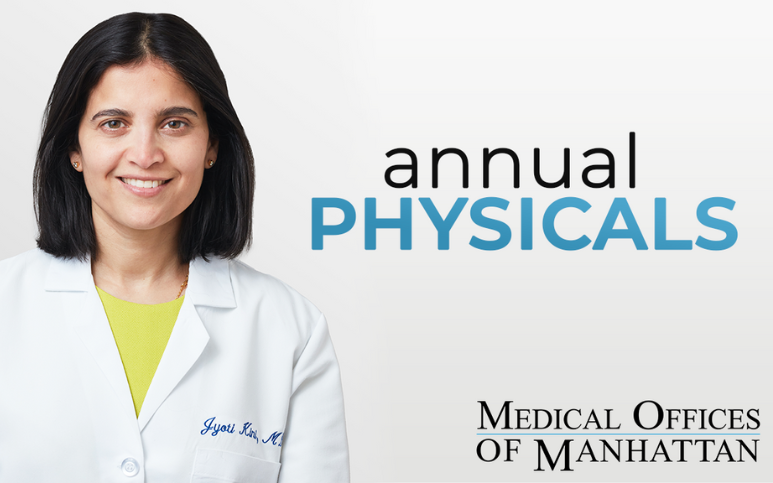 Our primary care physican, Dr. Jyoti Kini, discusses the importance of getting an annual physical and potential health concerns it can uncover. Early detection is key for sound prevention.
Transcription:
Everyone above the age of 18 should get an annual physical. An annual physical is done every 12 months. When you come for your annual physical, we want you to have a good hold on your family history, your personal history, and be honest about the social history, about the drinking, the smoking, or recreational drug use and such so the doctor is well aware of what might be the pitfalls if we start you on a medications or if something needs to be taken away because of your lifestyle. So it's important that all of it is discussed thoroughly, but also honestly with your primary care.
The steps of an annual physical would include you first have to get into an office gown and you get out of your street clothes. You get an EKG, which is a guideline for anyone over the age of 21 must get a baseline EKG so we know what the electrical activity of your heart looks like at baseline. And if it's normal, then we know it's normal. And if anything changes or should change over the course of many years, then we know that it's an abnormality. A physical exam is then done, which is done from head to toe. We do a brief skin exam, a breast exam in women, testicular exam in men. And then we expect some routine blood work, which includes just basic cholesterol, anemia, liver, kidney panel and things like that.
We recommend you book a one week follow up with your doctor so everything gets tied up and you go over all the blood work and all the imaging if it was done so you sit with your doctor and you talk it out so there's no confusion or there's nothing lost in translation. All the times, if everything comes out completely fine and your blood work is all okay and there's absolutely nothing wrong, then a medical assistant would contact you and tell you that everything looked perfectly fine, and we'll see you either in six months or next year.
It's good practice to go see your primary care every year. Preventative care is super important, and it's important that you discuss every aspect of that with your primary care.