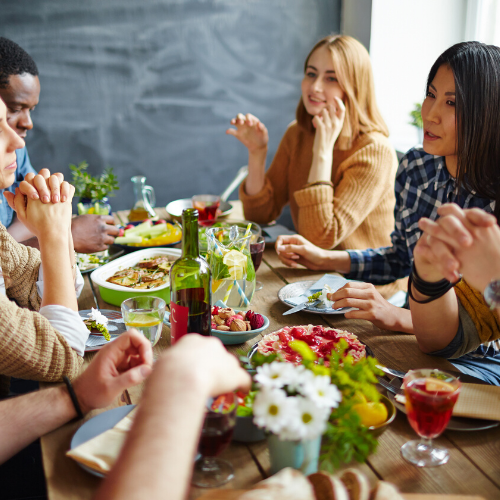 The way that food brings us all together is one of the best things about the holiday season. 'Tis the season to gather with loved ones and enjoy some of our favorite comfort foods. Holiday feasting can make it a real challenge to stay healthy during November and December, with the average American gaining at least a pound or two during the holidays. Determined to stick to your healthy diet but don't want to give up the holiday dishes you've been looking forward to all year? Here are six tips to help you enjoy your holiday parties and events this year without blowing up your diet.
1. Start With Healthy Veggies
Bring a healthy option, and eat it first! The staple vegetables of holiday meals tend to be heavy starches that are high in carbs. If you're hosting this year, try balancing out your menu with healthy veggies like roasted broccoli or brussels sprouts (if you're doing the holidays at someone else's place, ask if you can bring a dish). Take a helping of vegetables before anything else to reduce your appetite for the emptier calories. Starting with half a plate of healthy food might mean reaching for one less slice of pie later!
2. Take Your Time
It takes around 20 minutes for your brain to receive the signal that you're full, so eating slowly can keep you from packing in too many calories. Start with a small portion of the foods you like the best and after finishing, take some time – drink a glass of water and socialize for a few minutes – before going back for seconds. Smaller plates mean you're less likely to get too much food in your first helping, and taking a break between servings gives your body extra time to know that it's full.
3. Don't Skip Breakfast
Maybe you want to save room for that big holiday meal, but going in with an empty stomach makes you more likely to overeat. People who eat breakfast have been shown in studies to consume fewer calories over the course of the day. Having a healthy snack like fruit or nuts before the big meal can also help keep your appetite under control so you don't pig out too much at dinner.
4. Go Easy On The Alcohol
It's okay to enjoy a little booze on the holidays but, as always, moderation is key. Drinks like beer and eggnog are high in calories, and becoming intoxicated will also make you less likely to make smart, controlled eating decisions. If you're going to drink over the holidays, try to always have a glass of water or seltzer in between alcoholic beverages.
5. Be Physically Active
Make a tradition out of being physically active on the holidays! It can be tempting to sink into a food coma as soon as the meal is over, but it's a good idea to get everybody out of the house for a 20 minute walk. Not only does walking burn calories and help improve digestion, it's a great way to spend some time with the family. Having other holiday traditions that get your blood going is also a great idea. If you're in a colder climate, these could include ice skating or shoveling the driveway.
6. Enjoy Yourself
Trying to stay healthy over the holidays can be tricky and stressful, but above all, remember that this is a time to relax and enjoy yourself. Manage your portions, but don't feel like you have to skip dessert or deprive yourself of the foods that you really love. Eat, drink, and be merry. This is a special time of year and you deserve a chance to savor it.