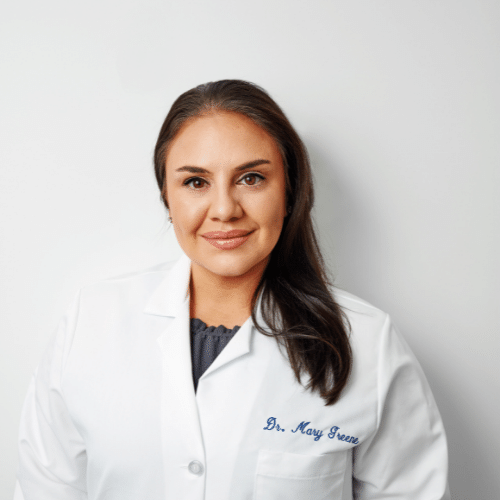 You will be redirected to our Sister brand, Manhattan Cardiology.
About Dr. Mary Greene
Education
St. George's University School of Medicine 2008 – 2012
M.D., Medicine
Geoffrey H. Bourne Scholarship recipient
State University of New York at Binghamton 2004 – 2008
Degree Bachelor of Science, Biochemistry
Board Certifications
American Board of Internal Medicine
Certified in Cardiovascular Disease
American Board of Internal Medicine
Certified in Internal Medicine
Hospital Privileges
Maimonides Medical Center, St Luke's Cornwall Hospital
Dr. Mary Greene, MD is our Director of Women's Heart Health. She's a cardiologist who specializes in Coronary and Peripheral Vascular Procedures, Echocardiography and Nuclear Cardiology, and Cardiovascular Disease Medicine. She is board-certified in Internal Medicine, Cardiovascular Disease, Echocardiography, Nuclear Cardiography, and RPVI.
After completing her undergraduate degree in biochemistry at SUNY Binghamton, Dr. Greene attended medical school at St. George's University School of Medicine. She completed her internship and residency in internal medicine at Maimonides Medical Center in Brooklyn, where she was also a fellow in cardiology and cardiovascular disease.
Dr. Greene joined Manhattan Cardiology in June of 2020. Her approach to cardiovascular medicine places a high value on individualized treatment and emphasizes preventive medicine, heading off potential cardiac health issues before they arise. She enjoys helping her patients gain a better understanding of their bodies to empower them to make informed, healthy decisions. Dr. Greene believes strongly that cardiovascular medicine is for everybody – young and old, healthy and sick, smokers and non-smokers.
In her spare time, Mary enjoys staying active by running, kickboxing, and riding her bike.
To provide invaluable diagnostic and treatment recommendations. Our mantra is just as simple: early detection is paramount to prevention.
To provide this world-class model, we not only have the most medically qualified doctors, we support them with passionate nurses, physicians assistants, and staff to deliver the all around care that you need.