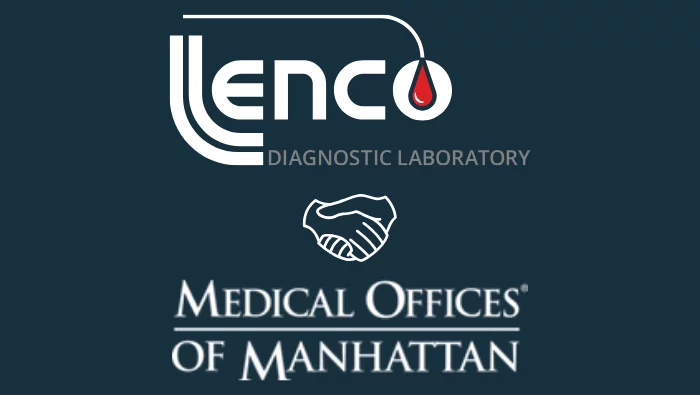 We at Medical Offices of Manhattan are glad to be partnering with Lenco Diagnostic Laboratories to offer COVID-19 antibody testing to patients who require it.
Lenco is one of the largest privately-owned reference laboratories in New York City. As one of the first labs in the city to gain approval to begin PCR testing for COVID-19, they have already successfully processed over 17,000 tests, with roughly half coming back positive for the coronavirus. Lenco has gone on to provide Serological Testing for COVID-19 antibodies, which is now available by appointment at Medical Offices of Manhattan.
What is Serological Antibody Testing?
Antibody testing is performed by collecting blood specimens from the patient and testing for the presence of IgM and IgG antibodies. IgM antibodies emerge in response to initial infection, usually within 3-5 days of first symptoms, while IgG antibodies can be detected in the blood later on, around 3-4 weeks following infection.
Though antibodies may not appear in the bloodstream in the earliest stages of infection, Serological Antibody Testing can verify whether the patient has been infected with COVID-19 in the past.
Who Can Get Tested for COVID-19 Antibodies?
The test is recommended for patients who have been experiencing coronavirus symptoms for five or more days. CDC guidelines recommend higher priority for testing hospitalized patients in order to take proper precautions to contain the spread of the virus, as well as for higher risk groups such as:
Adults over 65
Individuals with chronic medical conditions
Patients whose immune system is compromised by a pre-existing condition (e.g. diabetes, heart
disease, receiving immunosuppressive medications, chronic lung disease, chronic kidney disease).
How Accurate is Serological Antibody Testing for COVID-19?
A negative result from an antibody test does not necessarily rule out the presence of the COVID-19 virus, and antibody testing should be performed along with nasal swab testing to provide the most accurate possible results. False positive results are possible in patients who have been previously infected with non-SARS-CoV-2 coronavirus strains, such as coronavirus HKU1, NL63, OC43, or 229E.
Scheduling a COVID-19 Antibody Test
If you believe that you or a loved one may have been infected with COVID-19, please don't hesitate to schedule an appointment. Medical Offices of Manhattan observes all CDC guidelines to ensure the health and safety of all of our patients. If you have any questions, feel free to contact our office.