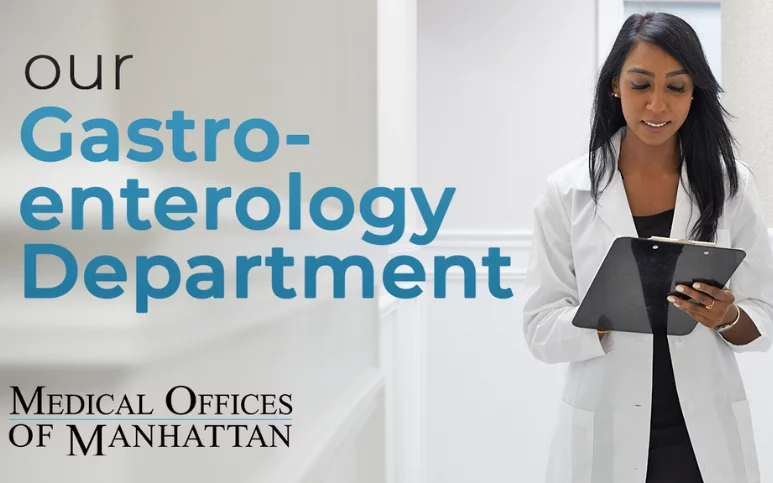 Our Gastroenterology Department at the Medical Offices of Manhattan are here to help with patient needs.
Transcription:
My name is Dr. Mejdi Ahmad. I am one of many gastroenterologists that we have in our department. Gastroenterologists in the medical office of Manhattan can be seen in various offices in the upper west side, as well as the Columbus circle office and the main offices at East 65th and East 51st Street. So in our department, we do offer different examinations to help diagnose a patient and these include upper endoscopy examination as well as colonoscopy.
And we also have a small bowel capsule study that when swallowed can examine the portion of the small intestine, that is hard to reach by scope. What's unique about Medical Offices of Manhattan is that the endoscopic suite is not in a hospital, but rather in our East 65th Street, upper east side location. Instead of referring patients to a hospital, we are able to provide all the testing and evaluation in house at our location at E 65th Street. Treatment options come in many different forms, but they do include changes in diet and nutrition and lifestyle, as well as being treated with different medications for different conditions that we do diagnose. And occasionally we would send out and refer patients to colorectal surgery or other specialists when it is required to do so.
One of the things that we are proud to offer is preventative medicine, entailing colon cancer screening. We do now provide and advise patients over the age of 45 years in getting a colonoscopy or any of the colon cancer screening options. The goal of the GI department is exactly as our motto says, "Care that never quits." We really want to provide the best optimal care for each and every one of our patients. And we would like our patients to live a happy and full life.