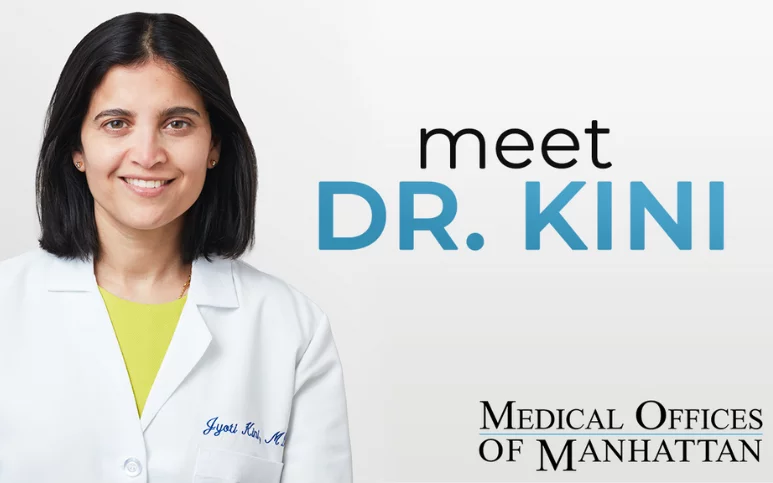 Dr. Kini is a dedicated physician of internal medicine, a primary care doctor certified by the American Board of Internal Medicine and a member of the American Medical Association. She completed her residency in Internal Medicine at Mount Sinai Medical Center.
Dr. Kini has been in private practice for seven years and is a warm, compassionate practitioner who considers her relationship with her patients to of the utmost importance to delivering quality care. Patients trust Dr. Kini to treat a variety of medical conditions including high blood pressure and hypertension, urinary tract infections and sexually transmitted diseases. She also provides weight-loss consultations.
Transcription:
I'm Dr. Jyoti Kini, and I'm an internist at Medical Offices of Manhattan and I'm also a medical director at 51st Street location. I went to medical school in India and did my residency in Mount Sinai Cabrini Medical Center. Since then, I've been working two different offices actually. I first started with a private practice in the Bronx, worked there for eight years, and then I've been with Medical Offices of Manhattan for the past eight years. Growing up, I had a lot of mentors. Most of them were either in medicine or in business. And I think I quickly realized business wasn't for me, so I made medicine my thing and I've not regretted it.
Netflix. No, I'm kidding. Actually, I'm not kidding. I like to watch really good shows recommended by my friends and I also like to hang out with my daughter who's 13, so we have to take her for her after school activities and weekend stuff and things like that. I play badminton with my daughter almost every day, and I like to eat at different restaurants in New York City. I take advantage of that.
Ever since I moved from India, which was 21 years ago, I've only ever lived in New York City and I cannot see myself living anywhere else. I like the life it has at every hour of the day, and I like the sense of community in the sense that even though we may not know our neighbors or don't know each other, we recognize that everybody wants to be the best at what they are. And it kind of inspires everyone, I think. And I love that about the city.
To give an example, I think, say a 40 year old comes to me who has no past medical history, but he would have, maybe he's prehypertensive or prediabetic, a little bit overweight, and I would love to have that patient come to me over and over again until all of those things are fixed because those things are fixable. And I think once patient sees improvement in these areas and they get positively reinforced, overall is a good result.