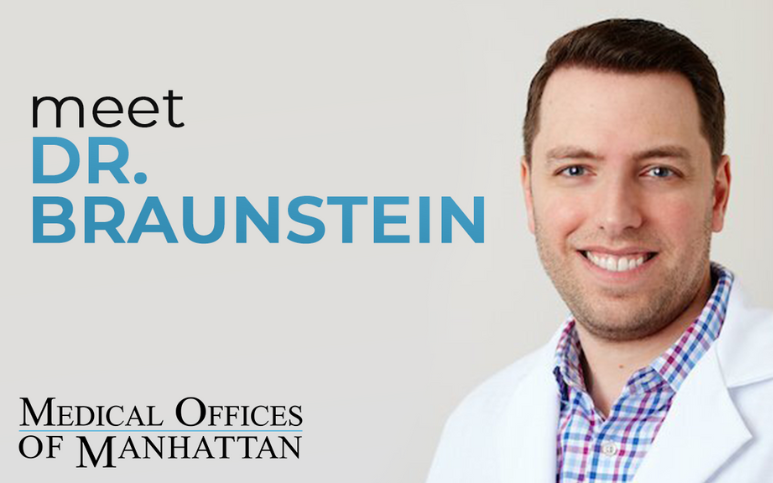 Dr. Jared Braunstein graduated from New York College of Osteopathic Medicine (NYCOM). Dr. Braunstein is a very caring and thoughtful person, always going above and beyond for his patients to make sure they get the best care possible.
Dr. Braunstein wants his patients to be heading in the right direction, towards optimal health, physically and mentally. He uses the latest medical equipment and medical information. Transcription:My name is Dr. Jared Braunstein. I am an internist and medical director at Lower Level, Medical Offices of Manhattan. I went to New York College of Osteopathic Medicine, and I did my internal medicine residency in Lenox Hill Hospital. I am in the American Medical Association and the American Board of Internal Medicine. I've been in practice for 14 years out of training, and I've worked at Medical Offices of Manhattan for the last four years.
I love internal medicine because I get to see the patients firsthand and get to coordinate their care the way I see fit, make a big difference as far as how they live their lives with activity and diet. I feel like they rely on us more than any other provider because we see them usually in the beginning, when they need care the most.
The thing that's great about working at Medical Offices of Manhattan is that when I see patients and they know they need that extra care as far as diagnostics go, I don't feel like I have to send patients out a lot to do anything else other than CAT scans or MRIs, because we provide so much, given that we have easy access to cardiology, GI, dermatology, on site.
So for those reasons, it makes it much, much easier to provide better care and quality care.