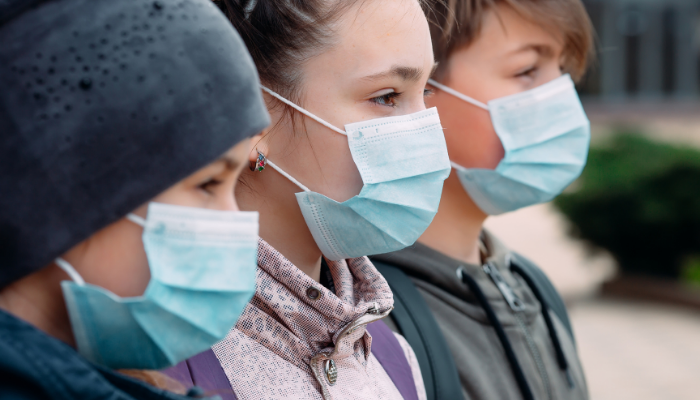 As surreal as it may be to think about, fall is upon us and the new school year is beginning. While some students will be continuing to study remotely, many others will return to the classroom for the first time since the COVID-19 pandemic forced us all indoors back in March. The level to which the coronavirus is currently contained varies around the nation but the pandemic is still very much ongoing, with over 30,000 daily new cases reported nationwide over the past week.
Are Kids Affected By COVID-19?
As the debate over returning to in-person schooling has heated up, there has been a great deal of misinformation, speculation, and conjecture flying around regarding whether or not children are actually susceptible to COVID-19. While it is true that those at the highest risk of hospitalization from the novel coronavirus tend to be older, studies have shown that no age group is fully free at risk of developing severe symptoms after infection. Even in the majority of cases among people under 18, which display no symptoms or mild symptoms, there is a risk that the virus could be spread to vulnerable teachers, school staff, or family members.
If your children are going back to in-person classes in the coming weeks, here are eight steps you can take to help keep them safe.
Teach Good Hand-Washing Habits
Washing your hands regularly is one of the most straightforward things that we can all be doing to avoid infection, and a crucial habit to encourage in our children. Make a habit of washing your hands throughout the day, especially after coming in from outside, and impress upon your children the importance of doing the same. You should also emphasize proper hand washing technique. If you have younger children, making a game of it can help. Teach them a song to sing while washing to make sure they scrub for the necessary 20 seconds.
Pack a Lunch
The cafeteria setups and policies may differ from state to state and district to district, but ultimately there's no safer option than preparing school lunches at home. Packing a brown bag allows you to control how many sets of hands your children's food will pass through before they eat it.
Arrange a Safe Commute
A crowded school bus is a less than ideal situation for avoiding transmission of the virus, so it's a good idea to consider other options. This could mean driving your kids to school, or walking them if it's a possibility. Biking to school may also be an option for those who are old enough.
Practice Mask-Wearing in Public
Wearing a mask has been shown in studies to drastically reduce the risk of COVID infection. Setting a good example by wearing one yourself when you go out can help your kids learn the importance of this precaution. If your son or daughter is a fan of cartoons or comic books, get them some masks featuring their favorite characters so they'll feel more attached to it and less likely to lose them or mix them up with other students'.
Create a "Bubble"
In many cases, kids who have been cooped up over the course of the social distancing period may be experiencing an acute sense of loneliness and isolation. Allow them to play with other children while limiting their circle to just a few friends whose families have also been maintaining safety precautions throughout the pandemic.
Encourage Spending Time Outside
The danger of COVID's spread is greatly magnified in enclosed and poorly ventilated spaces. While the weather is still nice, urge your kids to play and do schoolwork outside, where the risk of transmission is much lower. It's also not just a matter of infection risk – the lockdown has taken an emotional toll on all of us and outdoor play can play a crucial role in improving children's mental health.
Make Them Aware of Which Symptoms to Watch For
Being able to identify COVID symptoms as soon as they emerge is absolutely critical to keeping infections to a minimum. While minors with the coronavirus are often asymptomatic and Medical Offices of Manhattan currently only offers COVID testing for patients who are 18 or older, it's still a good idea to watch for any signs of infection. Tell your kids to be aware of symptoms like loss of taste or smell and to let you know immediately if they should occur. Taking their temperature daily before they go to school can also be a useful precaution.
Communicate!
Make sure that lines of communication are open. This is an unsettling time for all of us – listen to your kids and get an understanding of their fears or concerns. If you or your children have worries going into this school year, contact your school board to learn what policies are being put in place to protect against the spread of COVID. We all need to work together to defeat this pandemic, and keeping in touch is an indispensable part of that effort.