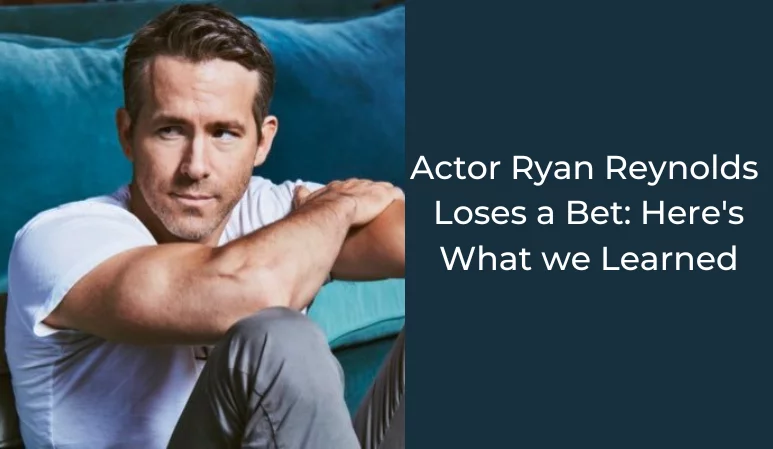 In an interesting twist, a lighthearted bet between two famous friends has turned into a vital opportunity to highlight the importance of preventive medicine.
When actor Ryan Reynolds and his friend Rob McElhenney of It's Always Sunny in Philadelphia acquired ownership of the Welsh soccer club Wrexham A.F.C., they made an unusual wager. McElhenney was going to attempt to learn the Welsh language within a year, and if he succeeded, Reynolds would have to record and publicly release his own colonoscopy. Sure enough, McElhenney was ultimately able to learn enough of the Celtic tongue to satisfy the requirements of the bet. That's when things got interesting.
During the 45-year-old Reynolds' colonoscopy, a polyp – a clump of cells formed on the lining of the colon – was found. It was able to be removed during the procedure, preventing what could have developed into a threat of cancer or other health issues over time. The actor has partnered with the nonprofits Colorectal Cancer Alliance and Lead From Behind to raise awareness about the importance and life-saving potential of colonoscopies. Let's talk about some of the key facts around colonoscopies and gastrointestinal medicine.
What is a colonoscopy?
A colonoscopy is a diagnostic procedure performed by a gastroenterologist in which a narrow, flexible tube (colonoscope) is inserted through the rectum. This tube is equipped with a tiny camera, which allows the doctor to visually examine the interior of the colon for abnormalities. The colonoscope can also be used to remove abnormal tissue during the procedure, either to avoid harmful complications or to perform biopsy. This is a simple procedure which is typically performed painlessly under sedation, and is usually finished within a half hour or so.
Who should get a colonoscopy?
While colon polyps are frequently harmless, they may develop into a serious or even life-threatening issue if not addressed early on. Around 130,000 Americans are diagnosed with colon cancer each year. This is a potentially fatal disease which mostly affects older adults and is almost always preventable if it is discovered in its nascent stages. That's why doctors recommend getting a colonoscopy every ten years beginning around the age of 50 at the latest, although the case of Reynolds at age 45 shows that these issues may be identifiable even earlier.
Since there is a known hereditary element to these cancers, it may be a good idea to get your first colonoscopy earlier if you know of a family member who has had colorectal cancer. The general rule of thumb is to get your first colon cancer screening when you are ten years younger than the age that your relative was diagnosed with the disease.
In addition to screening for cancers, colonoscopies can also be performed to detect the root causes of chronic gastrointestinal symptoms such as diarrhea or blood in stools.
Learn more details about the colonoscopy procedure including preparation, followup, and more here.
Colonoscopies at Medical Offices of Manhattan
Our practice is unique in our ability to perform colonoscopies and other gastroenterological procedures in-office at our Upper East Side location's surgical suite. Our expert gastroenterologists can also give in-person consultations at any of our three Manhattan offices. If you are due for a colonoscopy or have any GI issues that you are concerned about, please don't hesitate to book an appointment with us.