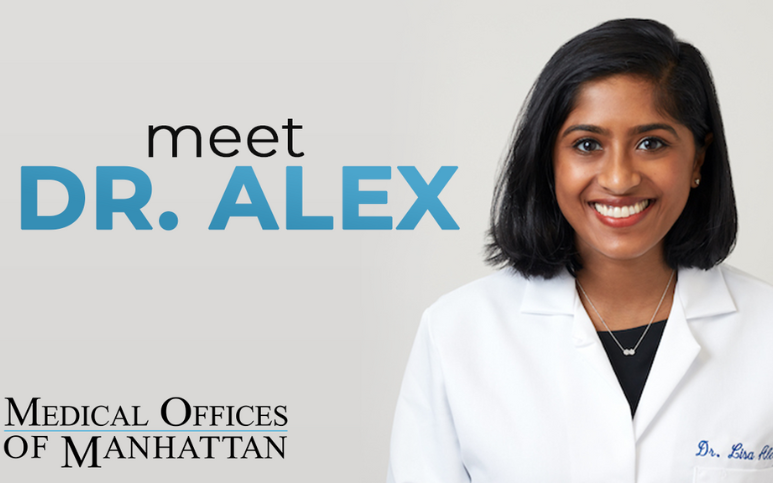 Dr. Lisa Alex is a compassionate primary care physician, listening to her patients and keeping a keen eye for details, so as to provide the best possible care.
She attended New York Institute of Technology where Dr. Alex graduated magna cum laude with a BS in Biology. She went on to medical school at Ross Medical University. Dr. Alex completed her internal medicine residency at Icahn School of Medicine at Mount Sinai – Elmhurst.
Dr. Alex has had extensive training in managing various medical co-morbidities and teaching patients how to better understand their health. She is invested in making her patients feel understood and developing a trusting relationship.
Transcription:
My name is Dr. Lisa Alex. I'm a primary care physician here in Medical Offices of Manhattan. I do internal medicine, which is adult medicine. So I did my undergrad out in Long Island at NYIT, and then I went to med school at Ross University School of Medicine, did my residency at Elmhurst Hospital out in Queens, Elmhurst, and I specialized in internal medicine.
I like treating New Yorkers because I think we often get caught up in the hustle and bustle of everything and the busyness of life and work, maybe more so during the pandemic, when everyone was forced to take a minute to slow down and evaluate themselves or learn more about themselves and whether it came to their mental health or physical health. Seeing that more and more, that it's not just about everything around us, but to take care of ourselves in both ways, I really feel like I am able to provide for that in such a busy city.
For me, I view myself as someone who is able to help a patient manage their care in an overall sense. A lot of times we end up going to specialists, which is great because they're experts in that field. But what I've seen happen sometimes is they focus in on just that organ system or that one problem that they're great at, and sometimes miss taking a minute to step back and look at other things that may be contributing to the patient's symptoms or problems. And that's where I feel like I can step in, just being trained in thinking about medicine in general and what makes a person up as a whole, that's really important in piecing everything together.